In Thailand, if you surf the website which government think it not good, they will block it. For example, we can't visit youtube in Thailand!

If you try to visit blocked website you will force redirect to http://w3.mict.go.th/ci/blocked.html


if you don't know ICT url address, very easy just go to youtube.com, metacafe.com (All has been blocked!)



How we can visit these websites?
So easy! If you need to visit these website, you need a proxy server! Another benefit is you can hide IP Address. (If the proxy is fully anonymous proxy)
Here is some software lists


Hide IP

start from $25.95
Hide IP Platinum is the software you are looking for! Keeping your privacy is simple and easy: the only thing you need to do is open Hide IP Platinum. Hide IP Platinum will find the proxy server available to you and set it as your proxy server automatically. There is nothing need you to concern. Hide IP Platinum have done everything for you!
Easy-Hide-IP $19.95 USD per year

Easy-Hide-IP - Secures and Anonymizes all your internet connections and allows you to: Surf any Web Sites, Instant Messenger and Chat services, Web-based Email services, Newsgroups, Web Blogs and Forums. Your Identity is Secure, Protected, and Anonymized
ProxyCap start from $28
ProxyCap enables you to tunnel Internet applications through HTTP, SOCKS v4, and SOCKS v5 Proxy Servers. You can tell ProxyCap which applications will connect to the Internet through a proxy and under what circumstances. This is done through a user friendly interface, without the need to reconfigure any of your Internet clients. ProxyCap provides flexible rule system and allows you to define your own "tunneling" rules. You can add a new rule with just a few mouse clicks.
Tor Opensouce!
Tor is a toolset for a wide range of organizations and people that want to improve their safety and security on the Internet. Using Tor can help you anonymize web browsing and publishing, instant messaging, IRC, SSH, and other applications that use the TCP protocol. Tor also provides a platform on which software developers can build new applications with built-in anonymity, safety, and privacy features.
** For firefox, use TorButton!

Ninja Surfing start from $24.95
Program runs on Windows systray and provides very fast and convenient way of hiding IP address - just one click to hide IP and surf anonymously.

Netconceal Anonymizer Shield start from $24.95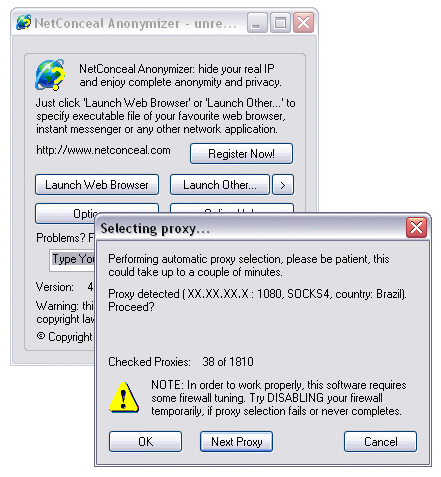 NetConceal Anonymity Shield hides your real IP address and other private information (your location, your ISP etc) by redirecting all of your network activity through special Internet computers, known as Proxy Servers. It uses special SOCKS protocol to communicate with proxy servers instead of communicating directly to target Internet resources.
Anonymous Proxy List price: $49.95
#1 Anonymous Proxy List Verifier is the perfect tool for being anonymous on the Internet by the use of proxies. It's an all-in-one program that offers you all the standard features plus many more which you will not find in other programs. By using a proxy you can get another IP when you are surfing the Internet. This will prevent malicious website owners to see who you are and keep you safe and preserving your right to be anonymous.
Proxy Switcher start from $29.95
Different internet connections do often require completely different proxy server settings and it's a real pain to change them manually. Proxy Switcher offers full featured connection management solution.
ProxyCommander start from $19.95
ProxyCommander is a windows program that runs in the system tray and allows you to quickly change between proxy servers, or to quickly change proxy settings. Proxy now can be changed from the system tray within a few clicks.
FreeProxy Internet Suite DonateWare!
FreeProxy is professional Freeware which channels requests for internet pages via a single computer and enables many computers to share an internet connection. If you have dial-up internet access, you can use the Demand Dial or Auto-Dial feature to dial up the internet either when it detects you want to access the internet (demand) or maintain a strict schedule of connection times (auto). Otherwise is works with Cable/Broadband.

** More infomation, check http://www.handcraftedsoftware.org/index.php?page=5
Proxy+ FREE for 3 user!

Proxy+ is a program that runs on a workstation or a server with MS Windows9x, Windows NT, Windows ME, Windows 2000 or Windows XP and a connection to the Internet. Proxy+ works as firewall proxy server and mail server. All workstations can use Proxy+ services via the TCP/IP protocol.

SocksCap FREE!

Automatically enables Windows-based TCP and UDP networking client applications to traverse a SOCKS firewall. SocksCap intercepts the networking calls from WinSock applications and redirects them through the SOCKS server without modifying the original application, the operating system software or drivers
proxymizer
FREEWARE!



It is possible that Thai government can tab data (package sniffer) from ISP! (They may do it or not. Who know?) If you thing that's not enough privacy. You need VPN, It like pipe or tunnel to retrieve and send data between client and server with encryption.
FREEDOM PLEASE! PRIVACY PLEASE!

FREEDOM PLEASE! PRIVACY PLEASE!

FREEDOM PLEASE! PRIVACY PLEASE!
links
ICT -
ministry of information and communication technology
FACT - Freedom Against Censorship Thailand